Wear the Walk in Hackney Central offers blockbuster fashion – to rent
Jedidajah Otte" />
A Hackney-based company offers designer clothes for rent, empowering women to change up their wardrobes weekly without major financial sacrifice.
Wear the Walk, founded by Zoe Partridge, 26, launched in March 2017 and opened its first studio on Bohemia Place in Hackney Central in May.
Customers can either view clothes in an online catalogue or make an appointment to visit the studio to rent ethically produced clothes they can keep for as long as they want, up to two pieces a time. A subscription to this service costs £50 a month, a one off pay as you go rental is pricier.
The range currently includes around 45 emerging British designers.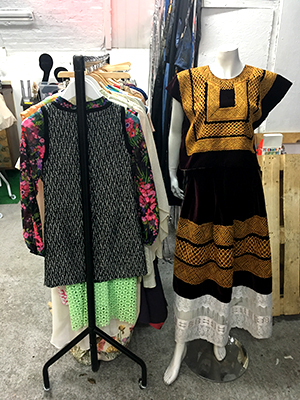 Partridge worked as a press assistant and in styling for luxury fashion company Mulberry before deciding to start up her own business.
While Wear the Walk attracts lots of stylists, the target customer could be anyone, Partridge told the Citizen:
"I think our customer is a social kind of a girl, the girl that's really striving to be the best she can be, someone that has an open-minded attitude and probably wants to consume a bit more responsibly."
The style of many of the pieces on offer will, admittedly, not be everyone's cup of tea. These are outfits that will stand out, but that, says Partridge, is the whole idea:
"I've got such a love for crazy, out there, show-stopper pieces and I hope we can give women the confidence to wear these types of things – because they're renting!"
Wear the Walk's theory is that concerns about the price, the amount of wears and compatibility with the rest of one's wardrobe become redundant if you're renting.
"We want to change the way women feel. I am not disposable. I am remarkable. I am unique," states the Wear the Walk website in bold feminist terms that resonate with the feel of the concept and the perky, confident look of the collection.
But there is a deeper political twang to the concept. As well as promoting sustainability, Partridge refers to the "limited access" to luxury goods, the "empowering flexibility" of renting and "patronising" dynamics of traditional fashion houses:
"I do think the traditional way in which the fashion industry, often men, dictates what we should wear – that we should change up our wardrobe twice a year, and yet consume every week – is very archaic," Partridge says.
Men in boardrooms dictate we should wear a pencil skirt and high heels. Social media dictates the more skin we show, the more popular we are. We are constantly being forced to conform to these industry pressures, to fit in and be the same as everyone else. Wear the Walk was built to be different."
In her eyes, most big fashion houses are opaque corporate beings that make their logo bigger every season, as opposed to freshening up their designs.
"It's power that's controlled in the hands of the few, leaving no room for innovation. I think my time at Mulberry taught me that something needs to be done to disrupt that industry."
Does she think big fashion retailers, such as Net-a-Porter, will offer rental fashion in the future?
"I would not be surprised. We're a lot savvier, there's a great amount of uncertainty, economically, politically, and I think people are frugal and far more interested in spending their money on experience than they are in actually owning things nowadays."