'Super creative' Hackney Baha'i community put on exhibition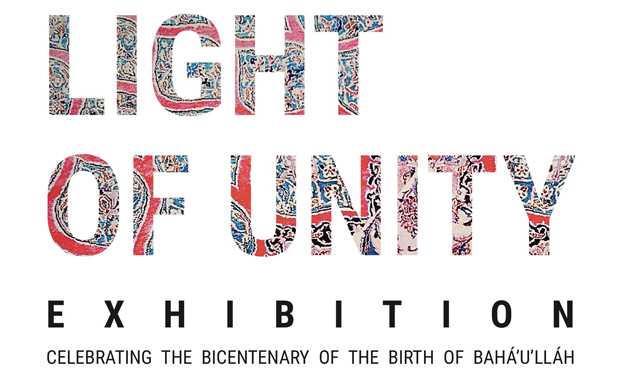 Silk doorways, symmetrical patterns and a giant portrait of St Francis of Assisi have all found a home at A-side B-side Gallery in Hackney as part of a week long exhibition that celebrates unity.
Artists contributing to the Light of Unity exhibition hail from all over the world – from Hackney to Hong Kong – and though diverse in form, the works have all been created in response to one line: "So powerful is the light of unity that it can illuminate the whole earth".
This line is from the writings of Baha'u'llah, the prophet founder of the Baha'i Faith, and this exhibition has been organised by local Baha'is to mark the 200th anniversary of his birth. In August, the Hackney Baha'i community put a call out to artists to participate in the exhibition.
"The Hackney Baha'i community is super creative and we wanted a celebration that reflected that," said Nasim Korting, one of the exhibition organisers, "but we wanted something inclusive because the Baha'i Faith is about including and bringing people together. So we thought this would be a good way of celebrating the birth of Baha'u'llah."
Baha'u'llah, who was born in 1817 in the Persian city of Tehran, taught that "the diverse religions of the world are shown to be expressions of a single underlying truth, related to one another by a common origin, and also by a common purpose: to transform humanity's inner life and outer conditions."
The pieces on display are not obviously related, but look carefully and there are aesthetic and conceptual connections between them.
Shehana Udat, a London-based artist with an interest in Islamic art, experiments with geometric forms. "All Islamic geometric patterns derive from the same origin – a simple circle," said Udat. "It is a unified yet diverse art form, very much like human nature."
Photographer Krystal Neuvill explores the themes of femininity and strength in her vibrant portraits of people in Hackney against backdrops of eye catching textile patterns.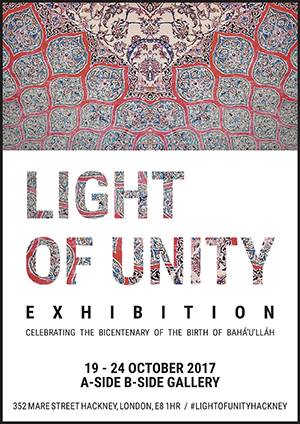 "The works show the connection between the cosmos, nature and religion," said Jonathan Wray, who helped curate the artworks, and worked hard to arrange the pieces in a harmonious way. "a lot of the pieces have patterns and geometries which are inherent to these three systems."
Alongside the exhibition, there are a series of evening events, including a Saturday night celebration at Arch 5, and two evenings at A-side B-side gallery: a discussion on Sunday at 7pm about getting involved in service, and a panel event on Monday at 7pm with London School of Economics professor Nava Ashraf and journalist Saleem Vaillancourt on whether unity is an impossible dream or a realistic goal.
"This occasion is being celebrated all over the world in ways unique to the local communities" said Chris Boakye, a representative of the Baha'i local assembly for the borough, "We are here to celebrate the life of Baha'u'llah and as Baha'is, its really important to serve and connect with our community so we really hope people will enjoy the artwork and the message of unity."
Light of Unity opens at A-side B-side Gallery on Thursday 19th October, running until Tuesday 24th October. 10am – 5pm (opening on Thursday at 7pm)