Hackney One Carnival returns on 10 September – we have all the details
Andrew Barnes" />
Hackney's answer to the recent bank holiday weekend's Notting Hill Carnival is scheduled for next Sunday 10 September, with organisers crossing their fingers for a repeat of last year's good weather and equally sunny atmosphere.
Officially beginning at midday, the real Hackney One Carnival festivities will kick off at 1:30pm, when a colourful procession of over 800 performers will depart from the intersection of Queensbridge Road and Regent's Canal.
The parade will continue on until taking a right onto Richmond Road and then a left onto Mare Street, where participants will sashay past Hackney Central and Downs stations.
It then hooks back round and down Dalston Lane, where the procession ends and the night's partying begins.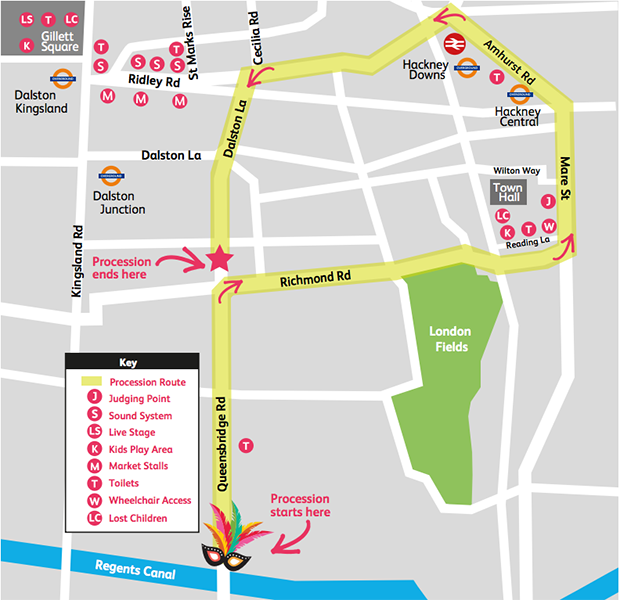 Dancers and carnival veterans from Paraiso School of Samba will join those strutting their stuff along the streets of Hackney Central. Trustee Richard Galbraith spoke to the Citizen about what he was looking forward to this time around:
"Hackney's always fun, because it's out on the street – the people line the streets – and it has a really laid-back, family friendly feel."
On that point, to paraphrase a 'classic' 80s anthem, Hackney Carnival caters for everyone "from the very very young to the very very old". (Indeed, drop in craft sessions, for older residents to create carnival materials like banners, have been taking place at St Joseph's Hospice all month.)
Kids – or those looking to keep the blighters entertained – have a few options, with play areas in both Hackney Town Hall Square (from 12-4pm; including local favourite Hackney Playbus) and Gillett Square (12-6pm, with live entertainment continuing till 8pm).
Those who stick near the Town Hall may well even spot Mayor Glanville sporting a special carnival version of the "I Love Hackney" badge (see tweet below), and will also have a chance to take in the all-important judging process, from 3-5pm.
Very excited about this year's #HackneyCarnival, complete with exciting new 'I Love Hackney' badges https://t.co/yH4xCWWOlM

— Mayor of Hackney (@mayorofhackney) August 22, 2017
The Dalston end of proceedings is set to be a more adult carnival hub, particularly following the main procession. Ridley Road will host four main sound systems, with tunes laid on by the likes of NTS Live and roots reggae outfit Solution Sounds, alongside the requisite international food stalls.
Then, revellers are left to party on into the night, with afterparties including The Three Compasses pub's shindig, which will feature GoneBurger grub, cocktails and dancehall, reggae, hiphop, soul & funk DJs until 11pm.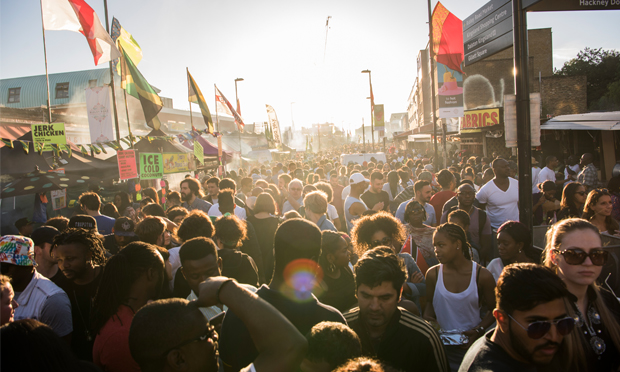 Weather-wise, early indications are that, while there may well be the odd shower, there's every chance that the sun will emerge from beyond the clouds too, with highs of 20°C and lows of 15°C forecast for the big day.
Cllr Guy Nicholson, Cabinet Member with responsibility for the Arts & Culture, is feeling the excitement: "The 2017 Hackney Carnival countdown is on. Hackney's very own Carnival is a celebration of community.
"It's made by our community for our community and for all Londoners who believe we are better and stronger together as one."
For more details (including road closures and parking suspensions) visit www.hackney.gov.uk/carnival