Brain food: charity Headway's new supper club and homemade grub brings people to the table
The terrace behind Timber Wharf in Haggerston, overlooking the Regent's Canal, is perfect summer cook-out territory. As I joined people milling in for a night of Middle Eastern food and bonhomie this part month, the smell of homemade, woodfired bread, emanating from a gargantuan outdoor pizza oven, filled the air.
This scene did not play out behind some trendy block of flats though; it wasn't the launch of a new drink or a corporate team building night either. It was at the HQ of Headway East London, the charity which provides support and communality for survivors of brain injuries.
Their members' visual artistic talents have been explored to great effect in recent months, and with a Hoxton pop-up art shop just gone and an exhibition at the Southbank Centre on the way, what better artform than cooking to turn to next?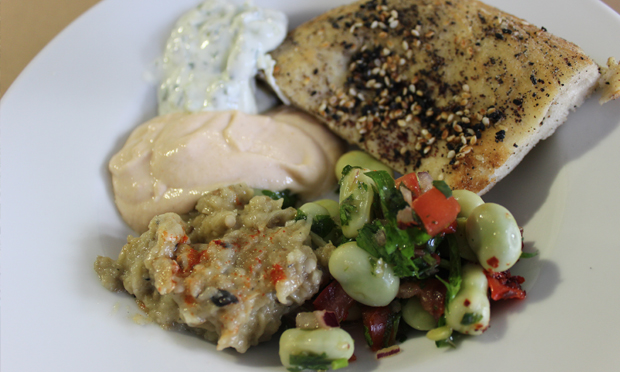 After drinks in amongst their magnificently appointed herb and veggie garden, we entered the main dining room to find our tables expertly laid by Danny, a Headway member who was a silver-service waiter before his accident. I got chatting to the assembled punters, members and volunteers, about recent trips, comedy, the herbal table centrepieces (provided by a Headway volunteer who lives on the canal) – the atmosphere was basically like a restaurant's, but friendlier.
Fundraising Officer Rosie Ross explained the night's agenda: "Tonight's event is one of the fruits of the kitchen project – so everything you are eating today is made from scratch by our kitchen team of brain injury survivors and volunteers… All of the money spent on tickets goes straight back to the charity."
The menu was inspired by service users Ibrahim and Siman, from Anatolia, Turkey, and all freshly made in house. The aforementioned bread went very quickly indeed, with the highlight of the accompanying dips being a delicious smoky aubergine affair.
We all gamely reused our cutlery ("Times are tough," joked Danny) for the main course. These were lovingly prepared Lamb Kofte patties served with peppers, aubergine and salad – a truly fine dinner for a summer's evening. Vegetarians were catered for too, with fried halloumi.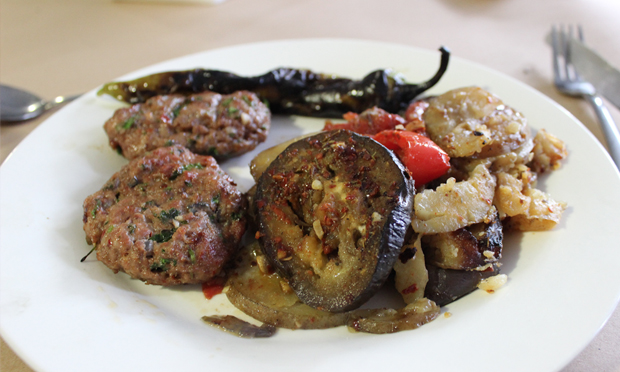 I'm known amongst friends as being a devout bean-ophobe, but the fresh crunch and hint of chilli in the accompanying green bean salad had me converted in an instant. I'm not blowing smoke or looking through rose-tinted charity glasses here: this is very good food.
Over a dessert course green tea and baklava, the assembled diners crowded round for the night's entertainment and Ibrahim's big moment: an assured performance of a couple of atmospheric tunes on traditional instrument the Saz, accompanied by a Headway staffer rocking a drum. Then, time for more conversation, friendly joshing and a raucous curtain call of appreciation for the chefs and ad hoc kitchen staff.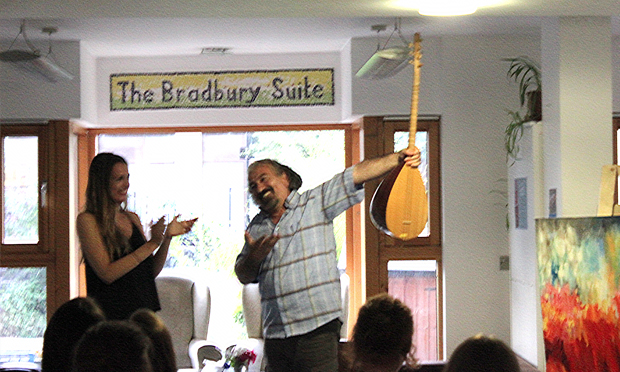 There's a love and respect in the air, while avoiding mawkishness, which elevates this event above the standard supper club, in this reporter's opinion. I'll be looking to go again ASAP, and any food-lover – perhaps those bored of endless pop-ups, or looking for an offbeat and charitable date location – should join in the fun.
Headway EATS returns to Headway East London, Timber Wharf 240, 238 Kingsland Rd, E2 8AX on 14 September: tickets available here