Client Earth, James Thornton and Martin Goodman, book review – 'a fight to protect our natural habitat'
On 27 April the High Court ordered the government to make a U-turn on its decision to delay publication of its clean air plan till after the June General Election. This ruling is the latest in a series of victories by James Thornton and his colleagues at ClientEarth, a London Fields-based environmental legal organisation that is the first of its kind in Europe.
European countries are at the forefront of environmental protection, with EU directives providing what are in many respects the world's most advanced green regulations. But the devil is in the detail of enforcement, where much of Europe, including the UK, falls down.
The American model of planet-saving puts far more emphasis on judicial activism, and Yankee style non-governmental action has many benefits that are only now being discovered this side of the pond.
James Thornton is a lawyer who imported the US approach to the UK, founding the environmental law firm ClientEarth in 2008. By that point he and his partner Martin Goodman already had many years of successful legal activism under their belts stateside.
Thornton had cut his legal teeth cleaning up Chesapeake Bay, before relocating to California and protecting endangered West Coast habitats.
The wide-ranging approach he developed involves interventions at each stage of the legal cycle, from the design of legislation through to its passage, monitoring and challenges to ensure the law is followed.
Not only was this approach novel when Thornton and Goodman brought it to London, but the very notion of public interest law was also an alien species, and one of the first things ClientEarth had to do when it set up shop was to challenge legal rules that required plaintiffs to cover the full legal cost of any court case they brought in the event of defeat. This crippling restriction made it virtually impossible for ordinary citizens to bring legal challenges against the state or against firms for failing to comply with environmental laws.
In Thornton's words, "Law is a tool I use to answer the bigger questions." His ultimate goal is to build an 'ecological civilisation': "We built an agricultural, then an industrial, and now we must build an ecological civilisation".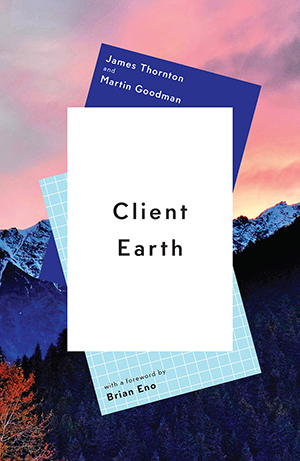 Since their initial strides in fighting air pollution in the UK, Thornton and Goodman have worked in Poland combating coal mining, in Ghana protecting forests, and in China training judges. ClientEarth also has a Brussels office involved in shaping EU legislation.
The book Client Earth is the account of the pair's fight to protect our natural habitat. The bulk of the text is penned by Goodman, with short reflections by Thornton interspersed.
Though the subject matter might strike some as dry, the style of Goodman's writing is lively and entertaining. Thornton's short pieces are shorter and more cerebral, reflecting a Zen-inspired intellectual leanness.
For an inspiring account of how social entrepreneurialism and ingenuity can make great strides in holding governments to account, this volume is well worth reading.
Client Earth by James Thornton and Martin Goodman is published by Scribe Publications, 2017. ISBN: 978 1 911344 08 7; RRP: £20.