Significant others: Latin Americans in Hackney now recognised as ethnic group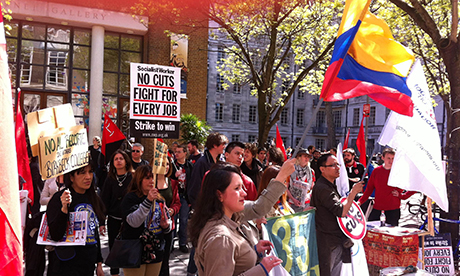 The Latin American community in Hackney is celebrating after being officially recognised as an ethnic group.
Hackney Council's decision means its population of approximately 4,000 Latin Americans will no longer be lost amongst catch-all categories such as white, black or mixed 'other'.
Four London boroughs have now recognised the group as a minority community – a series of significant victories for the Coalition of Latin Americans in the UK (CLAUK) who are campaigning fiercely for ethnic recognition.
Latin Americans will now be afforded the same rights and concerns as other groups in the borough, and not treated, to borrow a phrase from Labour MP Jeremy Corbyn "as an extension of Spain".
I set off to Stamford Hill to investigate rumours of a 'Brazilian quarter'. It might not be the Copacabana yet, but nestled in between the Jewish shops on Amhurst Park there are a few loud bursts of yellow and green.
There is Cantina de Gaucho, a traditional 'rodizio' all you can eat restaurant and the Brazilian Centre – home to a unique combination of a butchers, a grocers and a language centre.
According to Giovani Dadalt, who works in Cantina de Gaucho, the language centre should be in high demand.
"My parents speak no English", he explains. "All the Brazilian parents carry their kids around to meetings so they can translate."
Language is one of the main barriers facing Latin Americans, exacerbated by the fact that many work low-income jobs and can not afford to take English classes.
Access to services
CLAUK believes that gaining ethnic recognition will improve the council's ability to ensure the Latin American community is not left without information on healthcare and other vital services.
Advocacy and Campaigns Coordinator Lucila Granada said the Coalition has three main campaign issues; labour rights, access to healthcare and gaining ethnic recognition.
"We work on labour rights because most of our community work as cleaners where there is no regulations and also lots of violations of existing rights," she said.
"In terms of health, the take-up of services is very low amongst Latin Americans in general but it is difficult because there is no way for the public service provider to know that the population is not accessing their services."
Granada explains that the current census data underestimates the numbers of a community that suffers from "statistical invisibility".
"Right now if you map out the existing groups in the world you can see there is a region that is not accounted for and that is Latin America."
But for a community with a low take-up of English, Latin Americans still manage to make their voices heard.
I also speak to Robinson, a 60-year-old Ecuadorian who arrived in Hackney 14 years ago after ongoing political and economic crises crippled Ecuador.
A former vet and agricultural advisor, like so many highly qualified Latin American workers that emigrate to the UK, Robinson is now a cleaner.  Despite nearing the age of retirement he still works 14-hour shifts, seven days a week.
Robinson was one of the organisers of the 3Cosas, a campaign led by outsourced Latin American cleaners working at the University of London (UoL),  calling for 'three things': sick pay, holidays and pensions.
Helped by the Independent Workers Union (IWGB), the cleaners staged strikes and gained the support of  university students who joined the noisy picket lines. Unused to dealing with the 'Latin-style' negotiations, UoL bowed to pressure and agreed to pay its outsourced staff a living wage.
Robinson said: "We were suffering, with a miserable salary, in poverty. But our typical Latin style, which some people did not like, in the end got us what we had proposed."
"Once people restore their faith, they lose their fear. We have to improve our quality of life , not just for us but for all the people in the country."
So what would gaining ethnic recognition mean for Hackney's Latin Americans?
"At least they'll know how many there are of us, and they can start taking measures to educate people about us, know about our health and so on. At least we will have a space to say 'yes, I'm Latin American'. Right now we don't have that, we're no more than 'others'", said Robinson.
For Latin Americans across London, ethnic recognition is about more than box-ticking. It is a way of creating a concrete foundation that the community can build on.