Government blocks Hackney charity from visiting private prisons
The Chief Executive of a Hackney-based independent penal reform charity has had two scheduled prison visits blocked by the government.
Frances Crook from the Howard League for Penal Reform was due to visit private prisons Oakwood and Birmingham at the end of the month after being invited by the multinational security company that runs them, G4S.
But the National Offender Management Service (NOMS) wrote to Ms Crook on 20 March, informing her that the visit was being cancelled.
In the letter, Ian Blakeman, Director of Custodial Services wrote: "I understand why G4S have invited you – they are proud of what they are achieving and are keen to balance some of the negative views of these prisons from you and others."
"Given your comments about private prisons I do not feel your visits would be appropriate at this time and I have informed G4S that they should withdraw the invitation."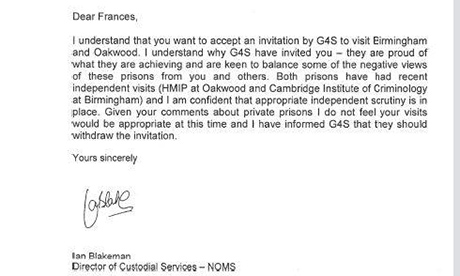 Frances Crook told the Citizen she was "bemused" when she received the letter: "It was arranged weeks ago. G4S are happy for me to go and I still have my tickets. I hope the Ministry of Justice will change its mind.
"This morning, the Ministry of Justice has written to prisons across the country asking which I have visited. I think they want to put a GPS tag on me so they can track where I am going. The depth of paranoia is breathtaking."
Crook shared Blakeman's letter on social media, where the government's move was criticised across the political spectrum. Shadow Justice Secretary Sadiq Khan tweeted that the letter was "shocking".
An Early Day Motion (EDM) has been tabled by Lib Dem MP Julian Huppert calling on the government to allow Crook's visit to take place.
G4S have told Crook they would be happy to provide access, subject to the approval of the Ministry of Justice.
.@francescrook – we are proud of our work at Oakwood and Birmingham and we are happy to provide access subject to the approval of NOMS

— G4S UK (@G4S_UK) March 20, 2015
A Prison Service spokesperson said that those who "irresponsibly misrepresent the situation" are not "a priority" for prison visits.
The spokesperson added: "It is absolutely right that prisons, like all public institutions, face significant media scrutiny and we welcome public debate on the issues they face.
"Groups and individuals are of course entitled to express their opinions. Those who irresponsibly misrepresent the situation by making inaccurate comments, and who fail to correct them when their inaccuracy is pointed out to them, are not a priority for access to prisons."