Divest Hackney calls on council to end £42m investment in fossil fuels
A new campaign has launched calling on Hackney Council to end its investment in the fossil fuel industry.
Divest Hackney, set up by a group of local residents and campaigners, want the council to "show leadership" and withdraw its £42 million investment it has in the fossil fuel industry through its pension fund.
The divestment, or disinvestment, movement is a growing global campaign aiming to pressure authorities, companies and organisations into removing their investments in the fossil fuel industry.
Environmental campaigners say that in order for the planet to stay below 2 degrees warming, over 80 per cent of known reserves of oil, coal and gas need to stay in the ground, yet fossil fuel companies continue to spend billions of pounds looking for new reserves.
With the aim of expanding the reach of Divest London, a campaign to make the capital 'fossil-free', campaigners have set up a local offshoot to turn the spotlight on Hackney Council.
Divest Hackney said it is planning a "high-profile lobbying effort" over the coming months and announced it is launching a petition to enlist support from local residents.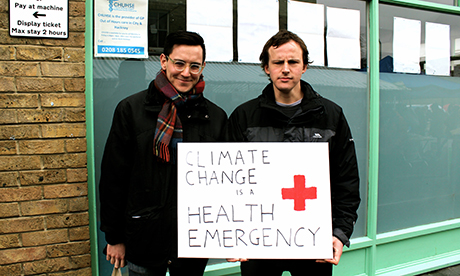 Divest Hackney member Chris Venables, told the Citizen that the council has an opportunity to "show leadership" by being the first London borough to divest from fossil fuels. Venables insisted it was a question of "when, not if".
The council argues that it has a legal duty to act in the best interest of the pension fund and its stakeholders which include staff, local employers and residents, and to optimise its returns.
But David Clarke, a member of Divest Hackney and a researcher on fiduciary duty said the Law Commission has confirmed that funds such as Hackney Council's are "not obliged to ignore the social and environmental implications" of their investments.
"In fact, acknowledgement of the serious risks posed by climate change is essential to a responsible investment strategy," he added.
The Governor of the Bank of England, Mark Carney, warned recently that the current value of fossil fuel stock is artificially inflated by carbon reserves that cannot be burned. This is oil, coal and gas that, although listed on stock exchanges, cannot be burned without having a "catastrophic" effect on climate change.
Approach is 'self-defeating'
The council insists it is committed to reducing the effects of air pollution, for example by "changing the way parking permits are priced from engine size to emissions-based" and by charging diesel vehicles more.
However, Gabriel Davalos from Divest Hackney said it was "inconceivable" that Hackney Council could see fit to invest in fossil fuels whilst simultaneously taking "serious steps" to address climate change.
Davalos called the approach "incompatible and self-defeating". He said: "Divesting Hackney from fossil fuels will send a clear message to politicians at the local, national and international level that we are no longer standing by and waiting for them to do the right thing. There is no time to waste."
A council spokesperson said: "The Pensions Committee will continue to review their approach to ethical investing to look at ways in which they can influence companies that we are either directly or indirectly invested in through the use of shareholder voting."
The Divest London campaign has gained momentum over the past few months achieving a significant victory on 11 March when the London Assembly passed a motion, tabled by Green London Assembly Member Jenny Jones, in favour of fossil fuel divestment.
Outside of the capital, Oxford City Council is leading the way, becoming the first local authority to pass a motion on fossil fuel divestment in September 2014, pledging to make no direct investment in fossil fuels. Bristol City Council followed suit and has committed to going fossil-free.
The council's pension fund has come under similar scrutiny in the past over its investments in the tobacco industry, which represent approximately £10.5 million.
Divest Hackney can be followed on Facebook and on Twitter. The petition can be found here.