Revealed: Hackney Council's 'alternative' designs for Bishopsgate Goodsyard
Hackney Council has commissioned 'alternative' designs for the Bishopsgate Goodsyard focusing on the expansion of Tech City, it has emerged.
Joint developer Hammerson and Ballymore's £800 million scheme is still under consideration by the boroughs of Tower Hamlets and Hackney.
Mayor Jules Pipe has recently spoken out against the scheme calling it "completely unsuitable for Shoreditch" but until now, the council's own designs on the scheme had been kept firmly under wraps.
Plans for the 'Hackable Hackney' scheme included in a presentation obtained by the Citizen, reveal an 'employment-led' development.
The controversial high-rise towers are replaced by "layers" of workspace inspired by streetscapes from San Francisco and Brooklyn.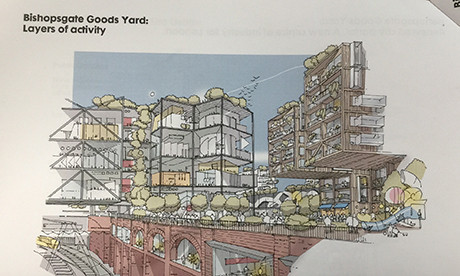 The designs contain 960 housing units, with 35 per cent affordable housing.
This meets the target set for the Bishopsgate site in 2010 but falls short of Hackney' Council's own target of 50 per cent affordable housing on new developments.
The amount of housing allocated to each borough is not specified but according to the document: "Tower Hamlets gets the level of homes they desire. Hackney gets the commercial development we need."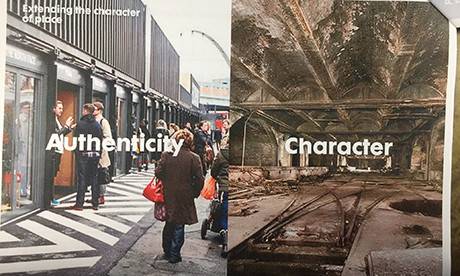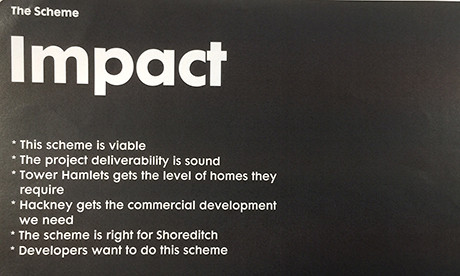 The designs are aimed at supporting Shoreditch's tech industry. The stated "motivation" of the scheme is for "extending the architectural framework for expanding businesses" amongst "like-minded communities".
Hammerson and Ballymore submitted plans to both Hackney Council and Tower Hamlets in July last year for an £800 million mixed-use scheme on the Bishopsgate site.
The designs were met by fierce opposition from local campaign groups who argue that the proposed 48 storey tower blocks will overshadow Shoreditch. The East End Preservation society branded the scheme "vast, intrusive and alien".
Hackney Council declined to comment.