Chekhov's Sons Without Fathers – review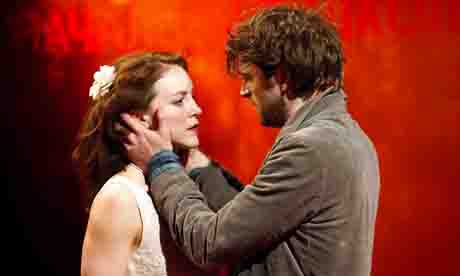 One of Chekhov's earliest plays was only discovered 16 years after his death.
The play is missing its title page so is often referred to as Platanov, after the main character, school teacher Mikhail Platanov.
Now, international theatre and opera director Helena Kaut-Howson has translated, adapted and directed a new version of the play and called it Sons Without Fathers.
A modern-dress production set in contemporary Russia, the play focuses on a specific group of characters from the original. "I concentrated on the young generation," says Kaut-Howson. "They are the people whose fathers have gone and left them with very little guidance on what to do in the modern world."
Kaut-Howson explains that: "Relocating the action to Russia of today, Sons Without Fathers brings to the surface the surprisingly modern preoccupations of the original."
Written by Chekhov when he was a 19-year-old medical student, and with a young protagonist, it is a "young man's vision of the world".
Platanov is played by Jack Laskey, who tells me that though the play is rarely performed in the UK, it is popular in mainland Europe precisely because of its incompleteness – meaning directors can make it what they want.
Kaut-Howson was born and trained in Poland and Laskey reflects that her understanding of the culture of the play may be better than most English directors; she encouraged a rawness and level of exposure in the actors that some might not have had the courage to do.
Laskey's own courage and work ethic clearly suits exacting Europeans – he has previously been directed to acclaim by Luc Bondy and Patrice Chéreau, and seems determined to keep pushing himself as an actor.
"Parts like this are like mountains to climb, that you never reach the summit of. Every night you're going into the ring. It requires you to get dirty every night, grappling to the end," he says.
The themes of Chekhov's better-known plays are present in Sons Without Fathers too, though Kaut-Howson wants to present audiences with the less familiar side of the playwright, that is "so much more angry, so much more sexy and alive, and violent even".
It will be Kaut-Howson's third outing at the Arcola, after she directed Dea Lohr's Innocence in 2010 and Uncle Vanya in 2011. As a director she deals with the complexity of life with brutal honesty, making plays that are as difficult to watch as they are necessary to see.
Expect visceral performances, black comedy, intelligence, sex and – of course – vodka.
Sons Without Fathers
8 May – 15 June 2013
Arcola Studio 1
24 Ashwin Street
E8 3DL