Anger over Sainsbury's Stoke Newington 'sham' consultation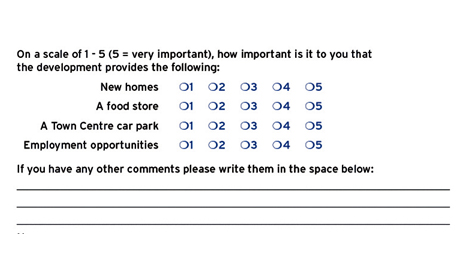 Small businesses and local people have branded a consultation exercise about a major new retail development in the heart of Stoke Newington 'biased and unfair'.
Campaign group Stokey Local and others say the questionnaire Sainsbury's encouraged visitors to complete at an exhibition about the company's plans for a large new store at Wilmer Place ignored any negative consequences of the proposals.
"The questionnaire only allowed you to rate how important you considered the benefits such as employment opportunities and extra parking," says Deborah Robertson of Stokey Local, a coalition of concerned citizens and businesses. "It asked nothing about drawbacks, such as the impact on smaller local traders or the effect of extra traffic passing through the area."
Those attending the exhibition at Abney Public Hall, Stoke Newington, on July 1st and 2nd, were asked to score on a scale of one to five how important they considered: 'new homes, a food store, a town centre car park and employment opportunities'.
"The questionnaire was biased and unfair," says Helen Rawlinson, Stoke Newington businesswoman and Leswin Road Residents' Association committee member. "At a time when Sainsbury's is trying to build trust with the local community, these kind of underhand tactics  will have completely the opposite effect."
Sainsbury's and developer Newmark Properties' plans involve a 2,200 square metre shop at Wilmer Place, at the junction of Stoke Newington Church Street and the High Street, 44 new flats and 94 underground parking spaces.
The new store would bring to five the number of Sainsbury's supermarkets in Stoke Newington. Wilmer Place is a short bus ride from a large Sainsbury's in Stamford Hill and another big store in Kingsland shopping centre, whilst a new Sainsbury's Local is planned for the Dalston Square development and another is already trading on Stoke Newington High Street.
Responding to concerns about the consultation, Diane Abbott, the MP for Hackney North and Stoke Newington, told the Citizen:
"I have real concerns about Sainsbury's development in Wilmer Place and also the way that local residents are being consulted. It is clear that the downsides to this development are not being given proper consideration.
"It is crucial that issues around the impact on noise and safety for residents, as well as the increase in traffic through the already heavily congested junction of Church Street and the High Street are properly thought through.  Similarly, there should be a discussion about the loss of a very diverse range of shops which add so much life to the community."
Stoke Newington councillor Rita Krishna agrees: "The consultation has been disappointing so far because it is geared to making the case for this particular development," she says. "Local councillors and residents are not in support of the development as it stands and we will continue to work with residents and community groups to secure changes to the scheme."
A spokesperson for Sainsbury's and Newmark Properties said: "Attendees at the exhibition had the opportunity to state their opinion on the overall scheme both in person to members of the project team and on the blank section of the feedback form."
Adam Hart, strategic director of Hackney Cooperative Developments, which helped redesign Dalston's Gillett Square, claims the development goes against the thrust of council policy and would be a body blow for small businesses.
"This proposal is flatly contradictory to Hackney's Local Economic Development Strategy," he says, "which is firmly in favour of supporting small independent businesses rather than having them be wiped out by corporate businesses such as the supermarkets."
Katharine Tasker, owner of Lemon Monkey cafe, is concerned about the impact of extra traffic. "We already have traffic issues in terms of congestion and yet a great transport system which allows for Stoke Newington residents to get about easily without a car. Small independent businesses are much healthier for a local economy, its culture and its environment. We should protect what we have established in Stoke Newington."
Local councils are relatively powerless to stop supermarkets opening new stores, but there is growing pressure from the public and parliamentarians for them to be given new powers to curb the ambitions of the big retail chains.
At the begining of July Labour and Liberal Democrat MP's joined forces to put forward amendments to the government's Localism Bill which would safeguard the character of local shopping streets. Councils would be required to put in place 'retail diversity schemes', to limit the domination of the high street by a few big names, based on the wishes of local people.
For small retailers, such as those in Stoke Newington, these changes cannot come too quickly. According to figures from the British Independent Retailers Association, there was a net loss nationwide of 2,298 independent stores in 2010.
"Small stores like mine face a real threat of closure when a huge supermarket opens up just yards away," says Dilip Chauhan of Benjamin Chemist, just a stone's throw from the site of the proposed store.  "At the moment it feels we are powerless in the face of these big companies, who slowly but surely have displaced so many independent stores, like butchers and bakers, from the High Street."
Campaign group Hackney Unites is asking citizens if they are concerned about the growing homogenisation of Hackney's high streets. It has called a public meeting on the topic of: 'Do we really need a large Sainsbury's in Stoke Newington High Street / Church Street?'
Hackney Unites public meeting
7pm Wednesday 13 July
St Mary's Church Community Centre, Defoe Road N16 (at the Stoke Newington Church Street end).
Related: Leader: Sainsbury's is wrong to use PR firm that boasts about overcoming residents' opposition