With Reclaim Social Work, Hackney Council could find itself leading a revolution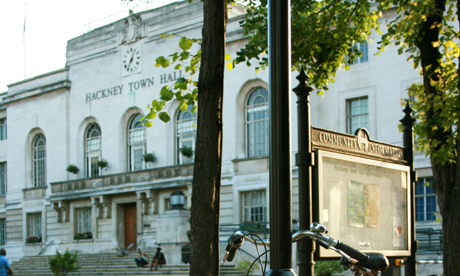 ---
This article titled "With Reclaim Social Work, Hackney Council could find itself leading a revolution" was written by Mark Gould, for guardian.co.uk on Thursday 4th November 2010 12.01 UTC
In many places whispering the words "Hackney" or "social worker" unlocks a Pavlovian torrent of abuse.
Put them together and you have the ideal recipe for a Tory MP or tabloid rant that could also feature traffic wardens, economic migrants, and Jeremy Hardy all followed by the obligatory warnings of a nation going to hell in a handcart.
But the east London borough is at the heart of a major shift in the social work profession that is drawing admiring glances from a government that actually seems to be on the same wavelength.
In 2006 public confidence in Hackney social workers was at one of its periodic low points following the deaths of two children at the hands of their mentally ill mother.
Staff were demoralised, swamped with paperwork and worked off their feet. There were anything up to 500 children in care and the department was hemorrhaging cash on agency staff to cover an average 50% vacancy rate that soared to a staggering 80% in some specific posts.
Isobella Trowler, who had just joined as assistant director of children's social care and Steve Goodman, the then deputy director of children and young people's social services, decided to take a long hard look at what social workers wanted out of the job and what families needed.
Reclaim Social Work was born. Focussing on small units of five people headed by a consultant social worker controlling a small budget and maintaining a case load, with one dedicated social worker looking after the child while others focus on the adults needs. A team of administrators looks after all the time consuming paperwork and data entry.
The fact that care is shared means that decision making, headaches, anxieties and stresses are all shared and no-one feels like they are working in isolation without support – a factor prevalent in so many inquiries and investigations where there has been a death or other serious incident.
The result, the number of children in care has fallen to around 280 – which goes against national trends following the tragic death of Baby Peter. And recruitment and retention has never been better with vacancy rates of just seven per cent.
If that wasn't good enough these improvements haven't cost any extra. "In fact we have managed to make five to seven per cent efficiency savings so we are spending less on child social care," says Trowler who goes onto explain that part of the reason is that the "right" children are being taken into care for the right reasons.
"We only used evidenced based interventions and the consultant and their team have access to a number of other experts they can draw on for advice so that when we do look after children it's the right ones and not those that bounce in and out of the system. And if we invest in doing the right things these high costs don't recur," she says.
And just as important for the families involved was the heavy emphasis on training and recruiting staff with what might seem pretty obvious personal skill yet which seemed to have become neglected .
These include strong reasoning capacity, great resilience and the ability to empathise with clients and to show real warmth all wrapped up with the confidence to make decisions.
Trowler says another measure of the success of the new approach is a reduction in complaints about the service both from families themselves and from advocacy groups. "We work really well with the advocacy organisation Voice UK who say we are open and listen to what families say."
So will Reclaim Social Work prevent another Baby Peter? Trowler says its impossible to rule out all fatalities. "People will always make mistakes but when you are running child protection services you have to create a system that reduces the chance of error and when an error happens making sure you are aware of it quickly and learn from it."
Hilton Dawson the chief executive of the British Association of Social Workers is a social worker by training and was a Labour MP until 2005.
When he took up his post at BASW in early 2009 he went on a national tour asking social workers about their needs and aspirations . "The only social workers who said 'its great here, we are doing really good work and we are really supported in being able to put social work theory into practice', were Hackney's and that was very refreshing".
He says social workers across the UK are "at the end of their tether" due to excessive workload and bureaucracy. "I got so many messages about good experienced social workers leaving and young optimistic ones feeling burnt out within 18 months."
He blames this mood on years of over management in which social work was taken out of the hands of social workers. "They are not doing social work anymore they are managing a bureaucratic system, because government and local authorities had lost faith. Rather than show confidence in social workers they have adopted a defensive attitude, removing decision making powers from the front line, bureaucratising and managing services at a very high level."
Dawson says that Hackney "epitomises what good social work should be; protecting children and supporting families and radically improving lives for the better. "
But it's not an instant recipe for success, he warns, "Social workers need to be well educated, have good ongoing training and be well supported – all things that cost money. But they save so much in the long term." The best way to achieve this, however, is something that will require ongoing debate.
This content is brought to you by Guardian Professional
guardian.co.uk © Guardian News & Media Limited 2010
Published via the Guardian News Feed plugin for WordPress.