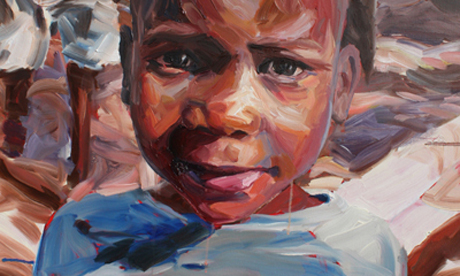 When artist James Petrucci embarked on a journey to the remote regions of Malawi to volunteer at an orphanage, teaching and playing with children whose youngest days have been afflicted with crushing traumas, all he was seeking was somewhere to help and make a difference. What Petrucci didn't realise, however, was that those very children would also provide the moving inspirations for his new set of paintings being showcased at the Print House Gallery this month.
Entitled Zicomo, the exhibition comprises of a series of portraits of some of the 150 children Petrucci encountered at the orphanage. Fascinated by artists such as Rembrandt who display their physical touch on the canvass, Petrucci's paintings are made up of individual marks, produced in thick layers and free moving brush strokes.
Though our preconceptions may perhaps have us imagining these children as unhappy and forlorn figures, those portrayed in these works are nothing like that. "They are all beautiful kids, all full of life," says Petrucci.
The word 'Zicomo' means 'Thank you' in Chichewa, the national language of Malawi, and this gratitude is what galvanised Petrucci and his painting. "Part of the reason I was inspired by them is that they are not these sort of pathetic, withered little figures that you see in aid appeals," he says. "They're actually extremely lucky because they have had the chance to have a new family, love and care, food and education that has been given to them. They are all really thankful for that."
By distancing himself from the popularised images of aid campaigns, Petrucci instead seeks to present a truthful reflection of everyday life from his experiences at the orphanage, where a third of the children are HIV positive and resources are constantly overstretched. "I don't want to tell people what to think," says Petrucci. "I just want to point out the fact they're there, and there are millions of others just like them. They shouldn't be ignored or marginalised."
However, Petrucci also points out that the thankfulness also comes on his behalf: "I feel like I got a huge amount out of working there, so I wanted to say 'Thank you'," he says. "It really puts your own life into perspective that I should be thankful for what I have got, and, hopefully, it will make other people think about what they have and give thanks for that."
Next year, Petrucci will be starting his MA in fine art, giving himself a year to explore and expand his technique and style, and push his portraiture into the more experimental and contemporary, while upholding the motive of representing the truth and allowing people to form their opinions. "What [the orphanage] made me realise is that there are groups of people in our society who are equally marginalised and ignored, and equally stereotyped," says Petrucci. "Groups like teenage gangs would be really interesting because a lot of people have a lot of fear and lot of preconceptions about a teenager wearing a baseball cap."
Zicomo is showing at the Print House Gallery, 18 Ashwin Street through Saturday 28 August.