The school of hard knocks
For many of us, getting through school was a matter of learning to roll with the punches. But for some young people, education seems like a battle they simply can't win.
Since 2007, Hackney's Boxing Academy has offered a unique alternative to students on the verge of exclusion from mainstream schools. Through the ethos and practice of boxing, the academy helps referred young people re-engage with education and turn their lives around.
As headteacher Anna Cain explains, it's partly down to the Alternative Provision (AP) school speaking the same language as them.
"Our students usually have a lot of anger," she says. "That's even more evident in teenagers growing up in difficult areas.
"Boxing is particularly good for anger management. Training is about discipline and calm; if you lose your temper in the boxing ring you've lost the fight."
It may sound paradoxical – training that encourages angry young people to use violence more effectively. But the living proof of its power to transform tells a different story.
Sean, one of the Boxing Academy's 2015 graduates, is a tall, softly-spoken young man who chooses his words carefully.
"Boxing is a great way to relieve stress, but it also inspires you," he says.
"I was one step away from permanent exclusion at my last school, so they decided to send me here. This was literally my last chance to get GCSEs. Through the training I gained confidence and found it easier to concentrate on my learning."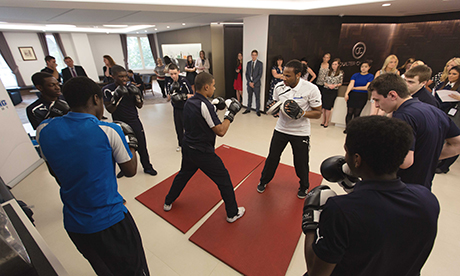 Indeed, The Boxing Academy's focus is on balancing physical and mental development.
Students kick off each day in the basement boxing gym with a 45-minute training session, before heading upstairs to study.
The bond between the academy's staff (all of whom are seasoned boxers with good people skills) and their mentees is pivotal. 'Pod leaders' take on the role of unofficial big brothers for the students, getting to know every one personally and guiding their progress through the course.
"The reason this school is successful is because of the relationship between the mentors and the children," Anna affirms.
"A boxing gym isn't a typical example of a nurturing environment – but they've got your back, 100 per cent. As long as you play by the rules you'll always be welcome."
The results give credence to the approach: this year, all 17 of The Boxing Academy's year 11 students sat their GCSEs and are taking their next steps. Their destinations range from apprenticeships to returning to further education to a football scholarship.
Up until now, The Boxing Academy has been registered as a charity, funded by the likes of Comic Relief and the Stone Family Foundation. It had to raise around £300,000 a year to stay afloat.
However, in June 2015 it was announced the institution had been granted Free School status. As of September 2016 its funding and support will come direct from government.
"Becoming a Free School will let us do what we do better," Cain explains. "We can offer eight GCSEs instead of five, and we can plan our budgets years in advance. For the last seven years we've been surviving; this brings genuine security."
It's a new chapter for the The Boxing Academy, and its ambitions are set to flourish. But one thing that won't change is what it offers students: A chance to redefine their education and their future, one swing at a time.